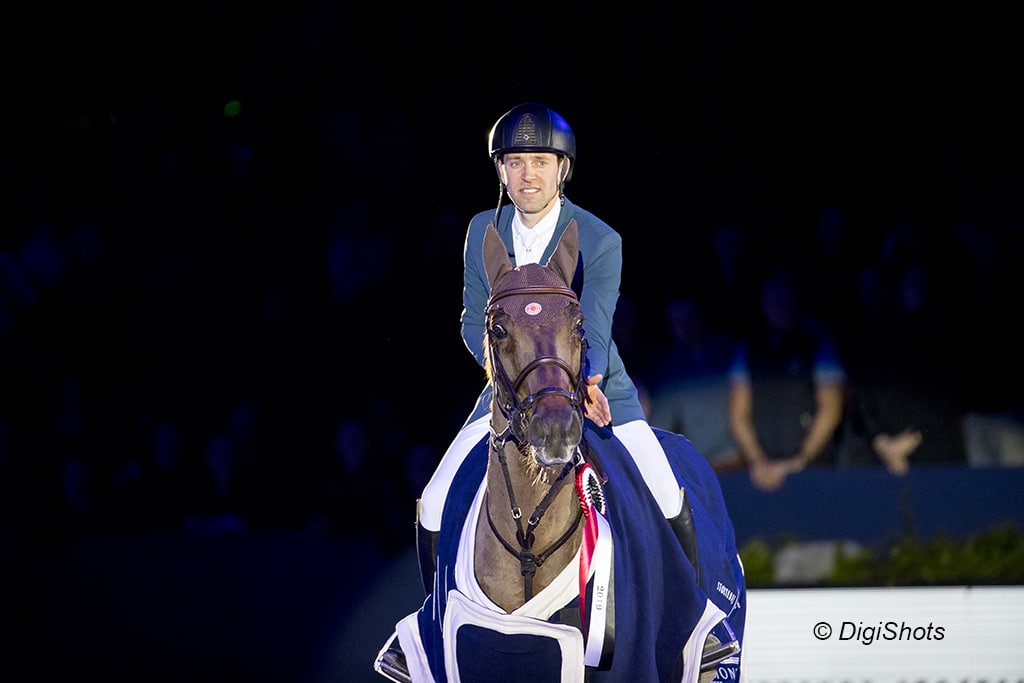 In an extremely exciting competition Simon Delestre and his star horse Hermes Ryan conquered the 1.60m Anemone Horse Trucks Grand Prix of Amsterdam. In the jump-off, tight corners, perfectly calculated strides and lightning speed drove the team to a win with 30.62 seconds. Delestre was all smiles after the jump-off. Eager to make sure Hermes Ryan was taken care of we caught up with the champion in the stables.
"He knows his job. He is a fighter, he is the most careful horse I can have and I can ride. The feeling was good so it was important to me that it translated tonight in the arena. He's now 14 but he is in super form. I don't want to push him too much. I want to only keep him for the best shows and have him in the best form I can have and in the arena I like the most. Bc there is so many shows that I can choose. He can jump everywhere. I want to protect him as long as I can because you can imagine what kind of horse he is. I will choose the best arena for him and I will try to manage him like that and if he can jump a few more seasons that would be a dream," said Delestre.
"He's one of the best horses in the world. When you can have him in good form like that it's something for a rider," Delestre continued.
Result Grand Prix of Amsterdam
1. Simon Delestre (FRA) – Hermes Ryan, 0/0/30,62
2. Daniël Deusser (DUI) – Jasmien vd Bisschop, 0/0/31,94
3. Rolf-Göran Bengtsson (ZWE) – Oak Grove's Carlyle, 0/0/32,03
4. Pieter Devos (BEL) – Jade vd Bisschop, 0/0/32,40
5. Marc Houtzager (Rouveen) – Sterrehof's Edinus, 0/0/35,47
6. Maikel vd Vleuten (Someren) – Dana Blue, 0/4/31,02
7. Bart Bles (Babberich) – Israel vd Dennehoeve, 0/4/45,22
Picture: Digishots
https://www.jumpingamsterdam.nl/wp-content/uploads/2019/01/Simon-Delestre-Hermes-Ryan-AMST19L7498.jpg
683
1024
Irene
https://www.jumpingamsterdam.nl/wp-content/uploads/2021/12/JumpLogoWit23-300x62.png
Irene
2019-01-27 00:31:27
2019-01-27 00:31:53
Lightning Victory for Simon Delestre and Hermes Ryan in 1.60m