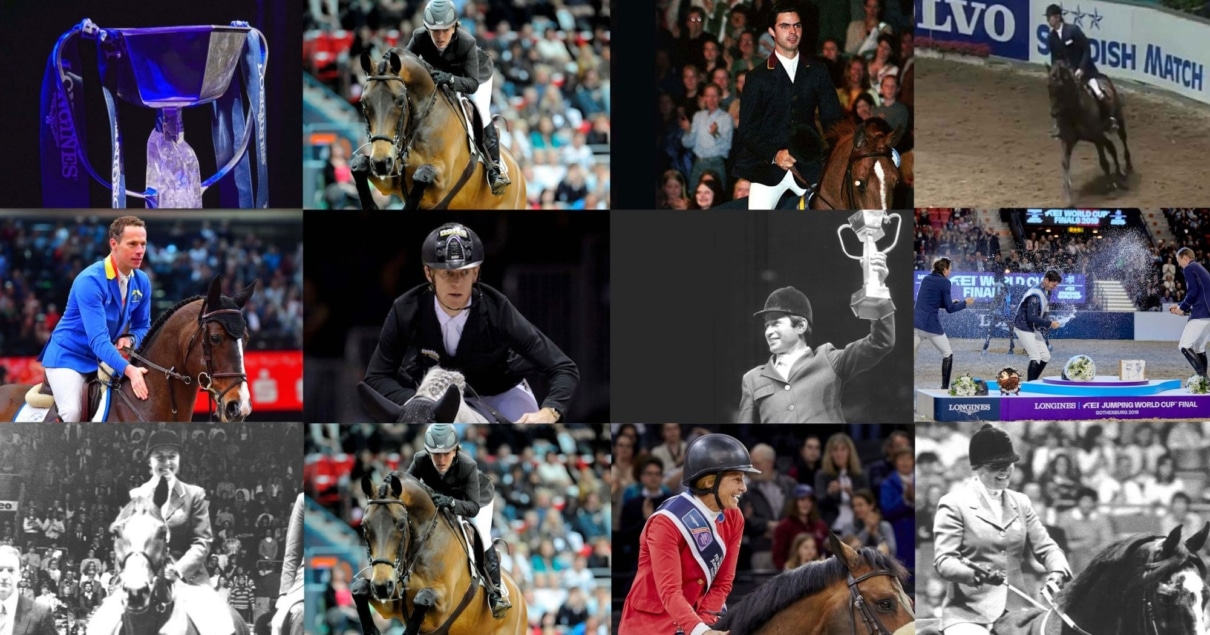 Some of the biggest names in Jumping history tell us about their Longines FEI Jumping World Cup™ Final wins…
The Longines FEI Jumping World Cup™ Final is one of the highlights of the equestrian year, and winning the title is something that only a select few athletes have achieved. Indeed, there have been 28 winners in the 42 years since the first final was held in 1979.
On the day the 2021 final was due to be held we spoke to some of the legends that have stood atop the podium at the premier event for indoor Jumping. They told us what it feels like to be the champion of the world and how it changed their lives…
First up is Hugo Simon, the Austrian who won the very first final in Gothenburg 42 years ago. Indeed, he ultimately won the event three times, with his second and third titles coming almost two decades later in 1996 and 1997.
Now 78, Hugo has fond memories of how he and Gladstone ultimately prevailed ahead of USA's Katie Monahan in what became a continental shoot-out in that first final with Europe coming out on top.
"All three World Cup Final wins were career highlights for me," he told FEI.org. "My favourite final was 1997, also in Gothenburg, which I won with E.T.FRH as we won all the three classes."
Another three-time winner was Rodrigo Pessoa, the brilliant Brazilian who dominated with Baloubet Du Rouet from 1998-2000, as he completed the famous 'three-peat'.
Rodrigo, whose father Nelson made the podium in the final in 1984 and 1991, told FEI.org that he would have settled for second place in 1998!
"That year, it was very close between Lars Nieberg and me. On the very last round when I went clear he had to go clear also. I just thought to myself second is already a great result with a nine-year-old horse. I grew up watching the World Cup Final. It was always a big thing before the outdoor season, it was prestigious. On the two occasions my dad ended up second, I always thought I would win a least one, which I did.
"All three wins have a very special meaning to me, but obviously winning the three-peat in Las Vegas in 2000 stands out. I am not sure it will ever be done again, but never say never!"
Here's Rodrigo and Baloubet at their best…
Meredith Michaels-Beerbaum also won three titles, in 2005, 2008 and 2009, with all three coming on Shutterfly.
She told FEI.org:
"Without a doubt, my favourite World Cup Final win was in Las Vegas 2009. It was a perfect win. I won all three of the legs of the World Cup Final with my wonderful mount Shutterfly, each time just edging out the great partnership of Mclain Ward and Sapphire, who was closely biting at our heels, or hooves, as you may.
"The win was so emotional and sentimental to me because I had just lost my step-father only weeks before and I felt the victory was for him. I also cherish the victory because it was Shutterfly truly at his best — 16 years-old, still showing his youth and dominating the field with vengeance.
"To top it off, I celebrated the win with family and friends by taking a Hummer limousine to the Hofbrauhaus in Vegas — a perfect victory party for an American-born German."
Marcus Ehning became the third athlete to win the event three times, securing his victories in 2003, 2006 and 2010. Not only did he win with different horses, his wins came in different continents – North America, Asia and Europe.
"Every one of my three World Cup Final victories was special," the German said. "In 2003, I won in Las Vegas with Anka, unexpected and not as a favourite; I was overwhelmed by the success of my fantastic mare who would continue to be a great Grand Prix horse.
"In 2006, I won with Sandro Boy, a superb performance over the entire weekend, without touching a single fence. In 2010 in Geneva, I was the first ever to win a final with two horses, Noltes Küchengirl and Plot Blue.
"I have very fond memories of all three finals with my fantastic horses."
Another German proud to have won the Longines FEI Jumping World Cup™ Final is Ludger Beerbaum, who triumphed with Ratina Z in 1993.
"This victory still means a lot to me," he told FEI.org. "It was one of the two most meaningful wins – the Olympics in 1992 and the World Cup Final in 1993. When I won the World Cup with Ratina Z, I was the first German rider who reached this, which made me very proud.
"After my gold medal with Classic Touch in Barcelona 1992 I had to give the mare back to her owner. So 1993 was the first year for me and Ratina Z and therefore it was a very gratifying for me to win with her."
Here's the full 1993 final in which Ludger went to head-to-head with past winners John Whitaker and Michael Matz, as well as future champion Beezie Madden…
Christian Ahlmann won the 2011 final in Leipzig, which meant he and Taloubet Z could share the glory with the German fans.
"It's an unbelievable feeling to ride in front of your home crowd," he told FEI.org. "The arena was sold out every day. It was sheer tension until the last rider, and an unforgettable weekend!"
Another winner in front of home fans was Dutch athlete Jos Lansink, who triumphed in 's-Hertogenbosch in 1994 after dominating with Libero H throughout the season.
"My victory is an unforgettable moment of my career," he told FEI.org.
"The World Cup final was in 's-Hertogenbosch, Indoor Brabant, my home country at that time. I have won all three competitions there.
"The whole World Cup season 93/94 was fantastic because I also managed to win five qualifications before the final."
Such fantastic memories from the last four decades! We can't wait to see who adds their name to the list of winners from 2022…
https://www.jumpingamsterdam.nl/wp-content/uploads/2021/04/winners-world-cup-collage.jpg
1050
2000
Irene
https://www.jumpingamsterdam.nl/wp-content/uploads/2021/12/JumpLogoWit23-300x62.png
Irene
2021-04-08 10:56:38
2021-04-09 12:42:25
Looking Back with The Legends