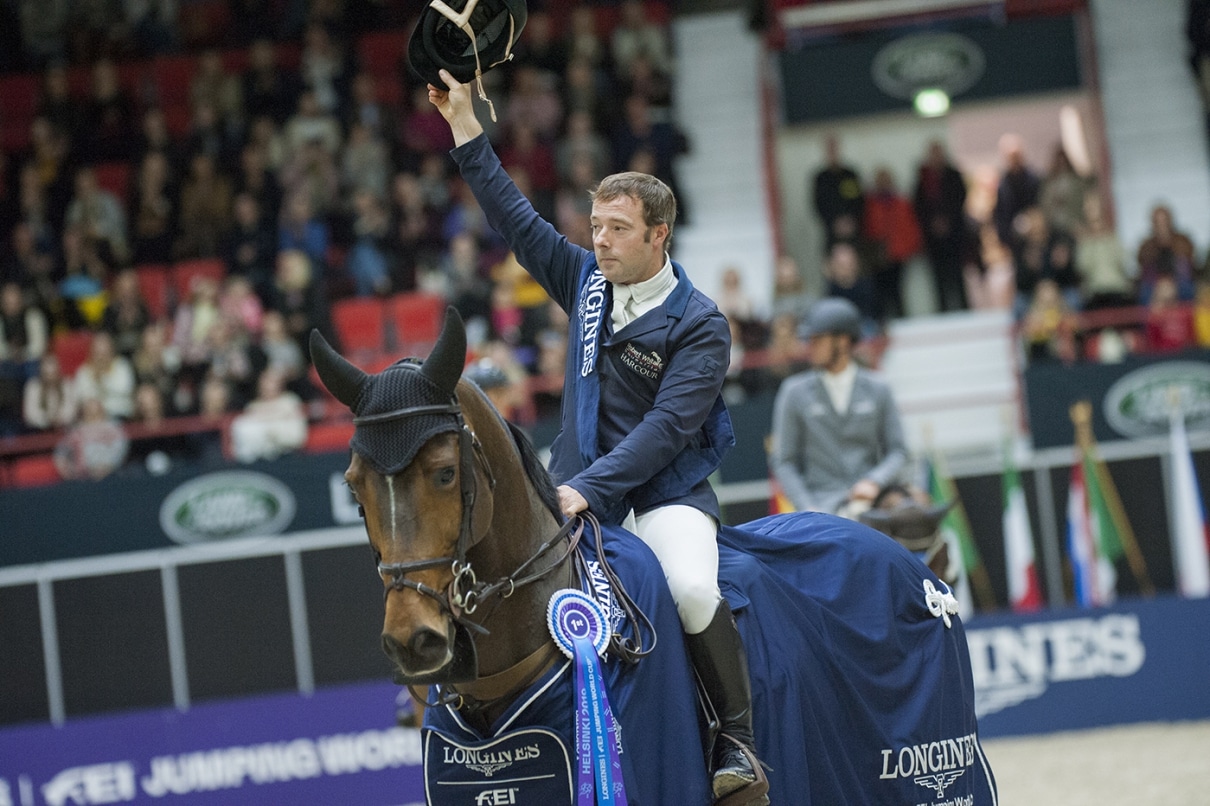 Britain's Robert Whitaker posted a sensational victory in the second leg of the Longines FEI Jumping World Cup™ 2019/2020 Western European League at Helsinki in Finland today with his long-time ride, Catwalk IV. 
In a competition that had spectators on the edges of their seats from start to finish, the pair pinned Spain's Sergio Alvarez Moya and his super-talented young horse Jet Run into second place while Belgium's Celine Schoonbroodt de Azevedo (Cheppetta) and Germany's Christian Kukuk (Quintino) lined up in third and fourth.
It's not often that a single fence plays such a major role in the outcome of any competition, but today the big blue wall presented by Brazilian course designer, Guilherme Jorge, proved pivotal. The tenth obstacle on the 13-fence track, it was built on a curving line and approached off a tight left-hand turn, and in both rounds it put paid to the chances of some of the best horse-and-rider combinations in the business. Not the 36-year-old Briton and his feisty 16-year-old gelding however. They took it on with gusto both times out to give Whitaker a career-defining first-ever World Cup win.
The close confines of the Ice Hall in Helsinki wouldn't be to every horse's liking, but Catwalk, it seems, is in his element there.
"He just likes arenas like this – he has a lot of power and he can easily jump big fences off a turn, although today to be honest he was unbelievable!"
Robert Whitaker (GBR)
Said the son of the legendary John Whitaker who was a back-to-back winner of the coveted FEI World Cup™ trophy with the great Milton back in 1990 and 1991.
1. Catwalk IV (Robert Whitaker) GBR 0/0 38.13
2. Jet Run (Sergio Alvarez Moya) ESP 0/0 39.81
3. Chepetta (Celine Schoonbroodt de Azevedo) BEL 0/0 40.09
Source: FEI
Photo: FEI
https://www.jumpingamsterdam.nl/wp-content/uploads/2019/10/1MB_RWhitaker.jpg
932
1400
Irene
https://www.jumpingamsterdam.nl/wp-content/uploads/2020/02/logo_2021.png
Irene
2019-10-28 12:03:34
2019-10-28 12:05:31
WHITAKER CLINCHES FIRST-EVER WORLD CUP WIN IN NAIL-BITER AT HELSINKI