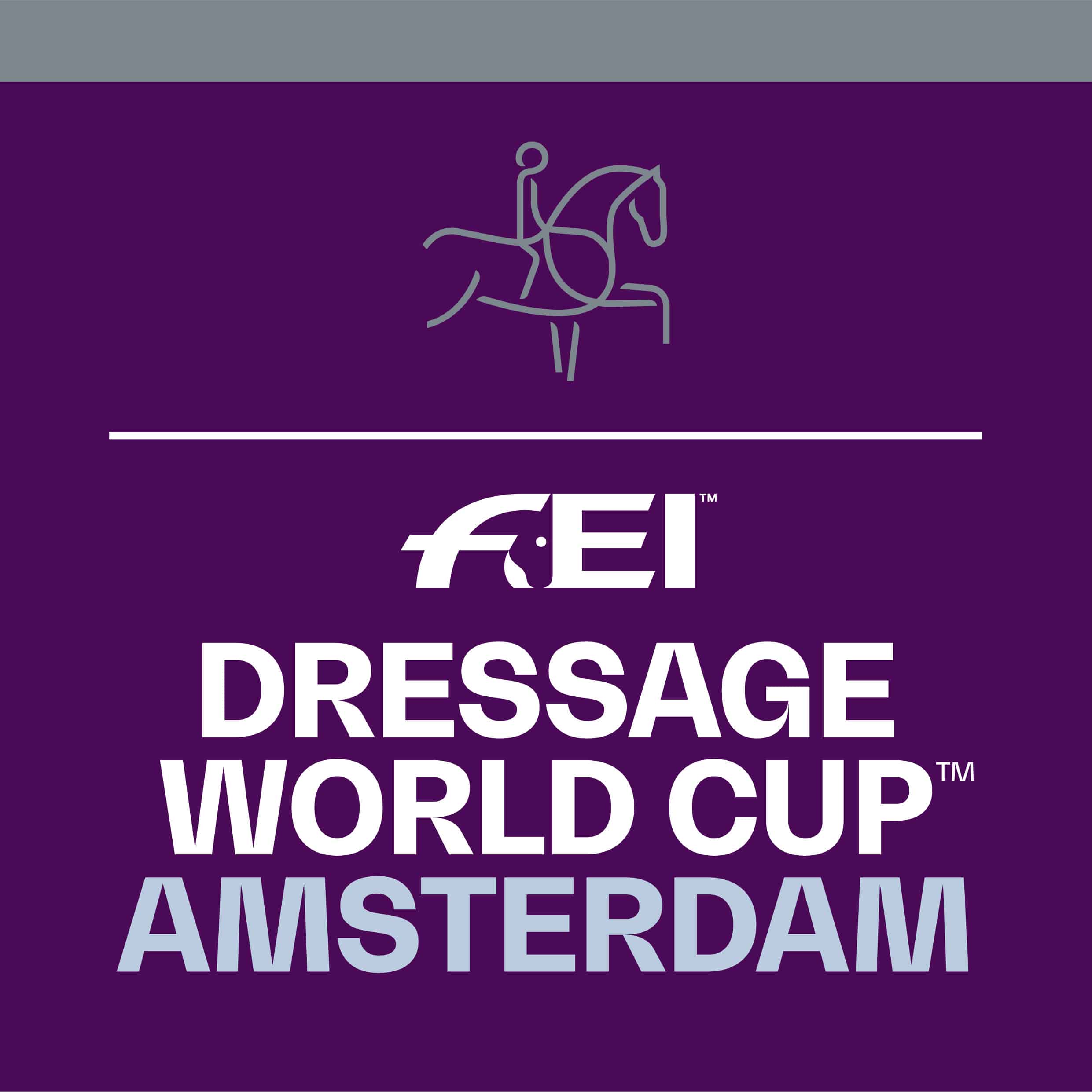 The international competitors of Jumping Amsterdam 2019 – The Diamond Edition are not yet confirmed. But with the FEI Dressage World Cup ™ as well as the Longines FEI Jumping World Cup ™ it is guaranteed that the best riders in the world will come to Amsterdam for the honor and the high prize money!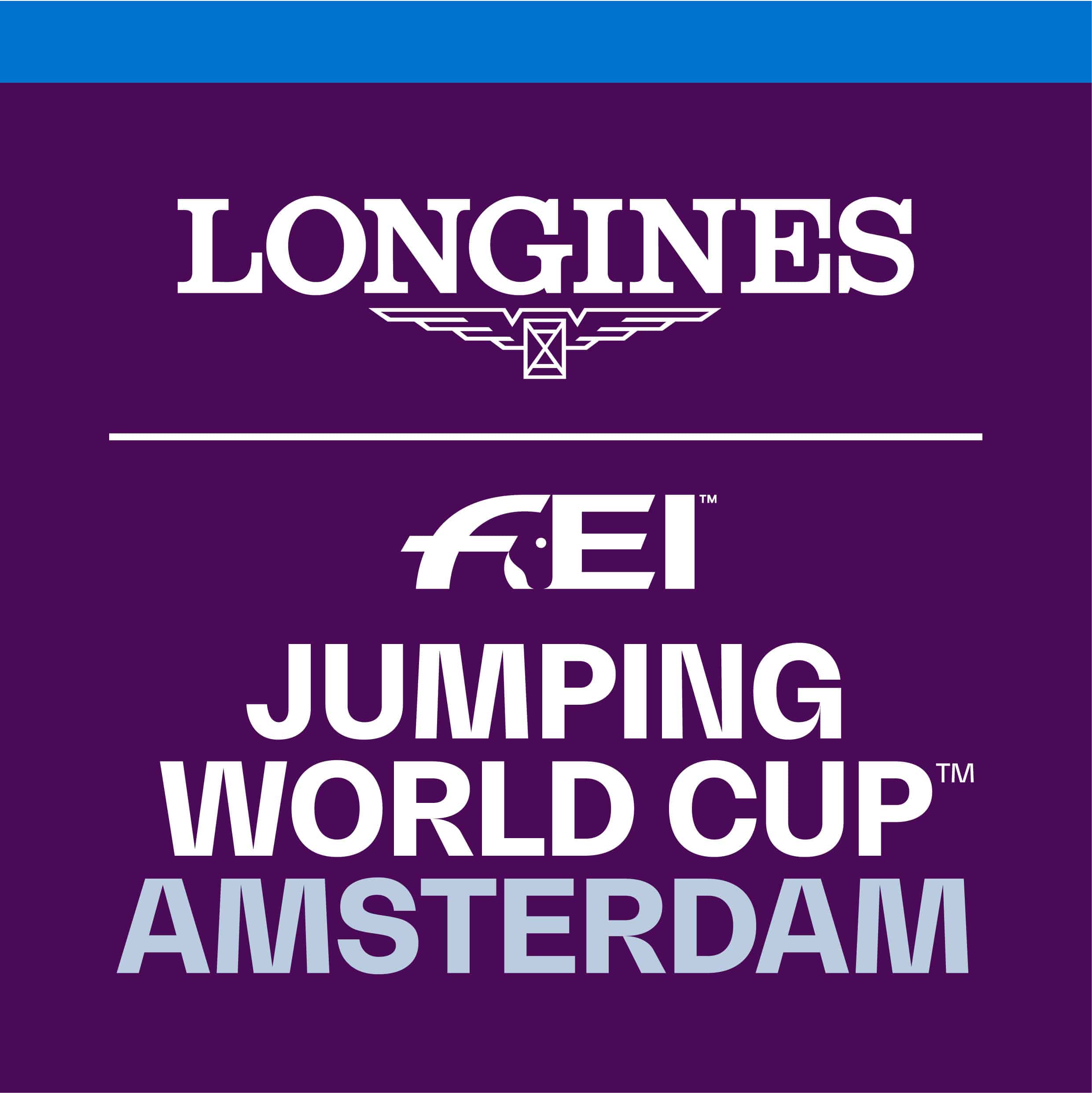 Overview competitors CDI5 * -W Amsterdam (update 17-01-2019)
AUS
Victoria Max-Theurer & Blind Date
BEL
Isabel Cool & Aranco V
DEN
Daniel Bachmann Andersen & Blue Hors Don Olymbrio
GER
Helen Langehanenberg & Damsey FRH
Dorothee Schneider & Sammy Davis Jr.
Frederic Wandres & Duke of Britain
Isabell Werth & Weihegold
GBR
Richard Davison & Bubblingh
Emma Hindle & Romy del Sol
IRL
Judy Reynolds & Vancouver K
NED
Adelinde Cornelissen & Aquido
Hans Peter Minderhoud & Glock's Dream Boy NOP
Tosca Visser van der Meulen & Ashter de Jeu
Thamar Zweistra & Hexagon's Double Dutch
Emmelie Scholtens & Apache
Madeleine White Fear & Cennin
SWE
Patrik Kittel & Delaunay
Antonia Ramel & Brother de Jeu
***
Overview competitors CSI5 * -W Amsterdam (update 22-01-2019)
WC = these riders start in the FEI World Cup ™ on Sunday afternoon.
AUT
Julia Houtzager-Kayser (WC) & Elke Maria M, Sterrehof's Cayetano Z
BEL
Niels Bryunseels (WC) & Gancia De Muze, Jenson van't Meulenhof, Utamaro D Ecaussines
Pieter Clemens (WC) & Caldero, Icarus, Lillebebegaards Amaflair
Karel Cox & Campino 451, Dublin Van Overis
Dominique Hendrickx & Bacardi Les Hauts, Kannabis de Bucxtale, Koriano van Klapscheut
Celine Schoonbroodt -the Azevedo (WC) & Chaccomo, Cheppetta
Annelies Vorsselmans (WC) & Diesel, Olimpo LS, Wilandro 3
BRA
Yuri Mansur & Amor, Carlson, Lou Lou VLS
COL
Dayro Arroyave (WC) & Alicante, Cenzo, Decco
EGY
Sameh El Dahan (WC) & Miss G Tracy, Sumas Zorro, WKD Exotic
ESP
Eduardo Alvarez Aznar & Rokfeller de Pleville Bios Margot, Seringat, Uqualin du Saulcy
FIN
Juulia Jylas (WC) & Courage TZ, Finishing Touch Wareslage
FRA
Simon Delestre & Hermes Ryan, Uccello De Will, Ulane Belmaniere
Kevin Staut (WC) & Ayada De Seption ET HDC, Viking D'La Rousserie
GBR
Robert Whitaker (WC) & Catwalk IV, El Wee Widge, Major Delacour
Guy Williams (WC) & Cicero II, Mr Blue Sky UK, Rouge de Ravel
John Whitaker & JB's Hot Stuff
GER
Daniel Deusser (WC) & Calisto Blue, Cornet 39, Killer Queen VDM
Marcus Ehning (WC) & Cristy, Firth of Lorne, Fun a Tout
Christian Kukuk (WC) & Baloutelli, Botaro, Coburn
ITA
Piergiorgio Bucci (WC) & Cochello, Deniro, Driandria
Michael Cristofoletti (WC) & Arabesque, Belony, Sig Debalia
Emanuele Gaudiano & Carlotta 232, Chalou, Quinn of the Heffinck
Alberto Zorzi (WC) & Dakota 390, Eclat du Bourbecq, Viceversa de la Roque
IRL
Bertram Allen (WC) & Christy JNR, GK Casper, Molly Malone V
Michael Duffy & Chappo Chey, Jaguar vd Berghoeve, Ugo de la Tour Vidal
NED
Jeroen Dubbeldam (WC) & Roelofsen Horse Trucks Eldorado's, Roelofsen Horse Trucks Gioia van het Neerenbosch, SFN Zenith
Maikel van der Vleuten (WC) & Beauville Z, Dana Blue, IDI Utopia
Willem Greve (WC) & Carambole, Faro, Zypria's
Jur Vrieling (WC) & Davall, Herciro van't Kiezelhof, VDL Glasgow vh Merelnest NOP
Eric van der Vleuten (WC) & Djoost Again, Snoes, Wunschkind 19
Doron Kuipers (WC) & Charley, Freestyle, Homer de Muze
Marc Houtzager (WC ) Sterrehof's Calimero, Sterrehof's Dante, Sterrehof's Edinus
Bart Bles & Comino, Gran Canyon of HD, Israel of the Dennehoeve
Kim Emmen & Delvaux, Eclipse, Teavanta II CZ
Angelique Horn & Brego R'N B, Space Girl 4
Frank Schuttert & Benur du Romet, Claus Dieter, Silbermond
Lisa Nooren & Dienellie, VDL Group Centora de Wallyro, VDL Group Sabech D'Ha
Gerco Schroeder & Davino Q, Glock's Cognac Champblanc, Glock's Debalia
NOR
Pål Flam (WC) & Abrisco V, Clooney II, Skjerabergs Larkin
POR
Rodrigo Giesteira Almeida & GC Chopin's Bushi, Hassan van de Wittemoere, Isolde vd Heffinck
SUI
Steve Guerdat (WC) & Alamo, Albfuehren's Bianca, Venard de Cerisy
Pius Schwizer (WC) & About a Dream, Cina Donna Awr, Cortnet Cox
Nadja Peter Steiner (WC) & Cache VA, Celeste 26, Saura de Fondcombe
SWE
Malin Baryard-Johnson (WC) & H & M Indiana, H & M Second Chance, Quantum
Henrik von Eckermann (WC) & Castello, First One, Tovek Mary Lou
Stephanie Holmèn (WC) & Broken Heart, Flip's Little Sparrow
Rolf-Göran Bengtsson & Emir R, Oak Grove's Carlyle
***
Overview competitors CSI-U25 Amsterdam (update 20-01-2019)
BEL
Laurens Houben
EGY
Abdelrahman Ikram
GBR
Lily Freeman-Attwood
James Whitaker
IRL
Anna Carway
Sofie Slattery
NED
Lisa Bongers
Kars Bonhof
Robin Glasses
Kim Hoogenraat
Kelly Jochems
Mickey Morssinkhof
Paris Morssinkhof
Pam Nieuwenhuis
Tom Schellekens
Lotte Teuns
Elize van de Mheen
Rowen van de Mheen
SWE
Stella Röhkcke
SUI
Laetitia du Couëdic
Subject to changes.
Longines FEI Jumping World Cup 2018/2019 Qualifiers – Western European League (WEL)
An overview of the ranking can be found here
Oslo – NOR 11.10.2018 – 14.10.2018
Winner: Douglas Lindelöw (SWE) with Zacramento (by Cardento)
Helsinki – FIN 17.10.2018 – 21.10.2018
Winner: Gudrun Patteet (BEL) with Sea Coast Pebbles Z (by Picasso Z)
Verona – ITA 25.10.2018 – 28.10.2018
Winner: Daniel Deusser (GER) with Calisto Blue (by Chacco-Blue)
Lyon – FRA 31.10.2018 – 04.11.2018
Winner: Martin Fuchs (SUI) with Clooney (by Cornet Obolensky)
Stuttgart – GER 14.11.2018 – 18.11.2018
Winner: Pieter Devos (BEL) with Apart (by Larino)
Madrid – ESP 22.11.2018 – 25.11.2018
Winner: Daniel Deusser (GER) with Tobago Z (by Tangelo Vd Zuuthoeve)
La Coruña – ESP 07.12.2018 – 09.12.2018
Winner: Edwina Tops-Alexander (AUS) with Vinchester (by Huppydam Des Horts)
London-Olympia – GBR 17.12.2018 – 23.12.2018
Winner: William Whitaker (GBR) with Utamaro D Ecaussines (by Diamant de Semilly)
Mechelen – BEL 26.12.2018 – 30.12.2018
Basel – SUI 10.01.2019 – 13.01.2019
Leipzig – GER 17.01.2019 – 20.01.2019
Amsterdam – NED 24.01.2019 – 27.01.2019
Bordeaux – FRA 07.02.2019 – 10.02.2019
FEI Dressage World Cup ™ 2018/2019 Qualifiers
Herning – DEN 17.10.2018 – 21.10.2018
Winner: Daniel Bachmann Andersen (DEN) with Blue Hors Zack (by Rousseau)
Lyon – FRA 31.10.2018 – 04.11.2018
Winner: Isabell Werth (GER) with Emilio (by Ehrenpreis)
Stuttgart – GER 14.11.2018 – 18.11.2018
Winner: Isabell Werth (GER) with Bella Rose (by Belissimo M)
Madrid – ESP 22.11.2018 – 25.11.2018
Winner: Beatriz Ferrer-Salat (ESP) with Delgado (by De Niro 6)
Salzburg – AUT 05.12.2018 – 09.12.2018
Winner: Benjamin Werndl with Daily Mirror (by Damon Hill)
London Olympia – GBR 17.12.2018 – 23.12.2018
Winner: Frederic Wandres (GER) with Duke of Britain (by Dimaggio)
Mechelen – BEL 26.12.2018 – 30.12.2018
Amsterdam – NED 24.01.2019 – 27.01.2019
Neumünster – GER 14.02.2019 – 17.02.2019
's-Hertogenbosch – NED 14.03.2019 – 17.03.2019