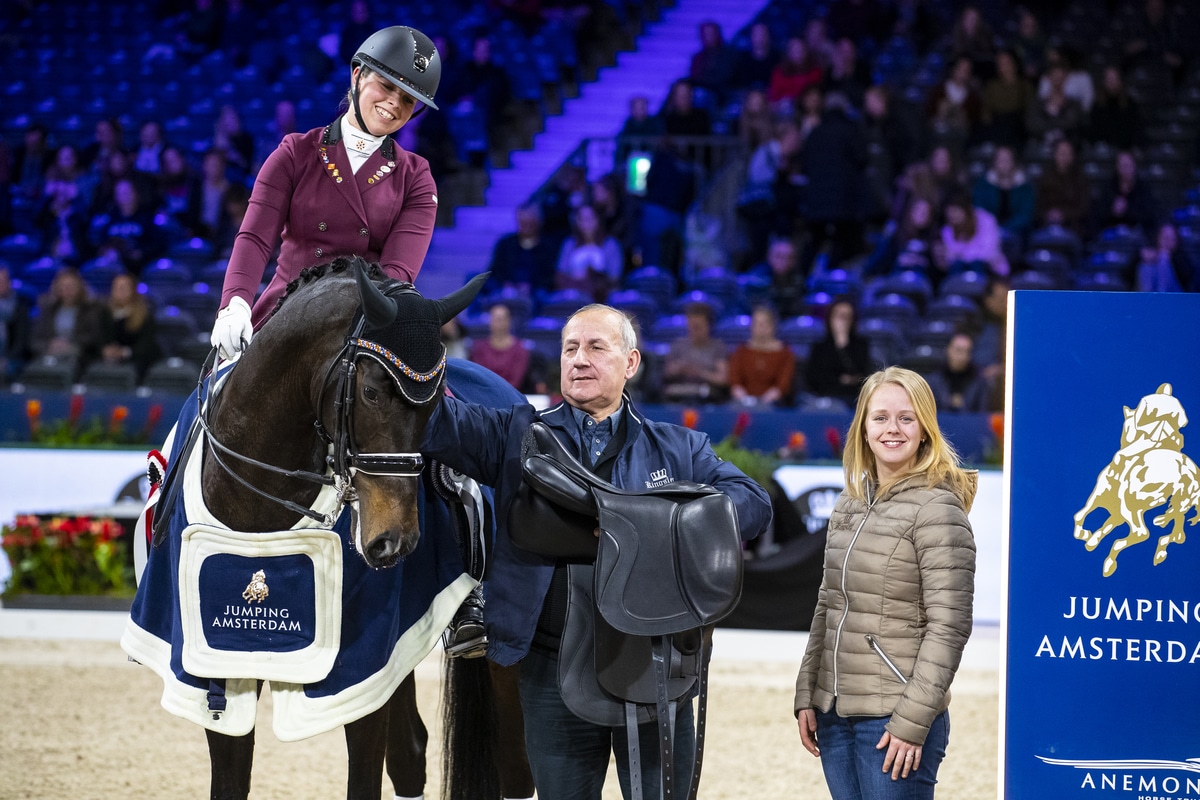 Jasmien De Koeyer was the strongest in the Kingsley Future Cup U25 presented by Hoefslag. De Koeyer rode a very strong test with Esperanza (f. Desperados), which was rated with 77.258%. Thalia Rockx came second with 18-year-old Verdi La Fazenda (f. Florett As). De Koeyer kept Rockx at 3.38% distance. Carlijn Huberts came third with the 17-year-old Watoeshi (f. Rousseau) and received 72.408% for her performance.
I am super proud of my horse
De Koeyer: "It was the first time I drove this test. I actually wanted to ride this freestyle at the European Championships last year, but unfortunately I did not succeed. This was a great opportunity to show him for the first time. I have practiced the freestyle many times and I chose the lines that I really want. That was certainly successful and the performance was also very good today. Esperanza was very light in the hand, but only a bit frsh in the beginning. Luckily faded that away as the test progressed. I am super proud of my horse, because she did what I wanted. I know myself that she can do much better and I want to show that this year".
Indoor Brabant
"I'm planning on appearing at Indoor Brabant as well. After that we'll see more. He might run another international course. I hope to take another step towards the European Championships and take revenge," said de Koeyer.
Highlights
"The connection of the extended gallop, pirouette and then my change series is so pleasant. The test went by itself and the canter part went very well."
"Esperanza is very willing to work
"Esperanza is a very fresh horse, who is very willing to work and goes through fire for me.
"I've certainly achieved my goal for today.
"I announced on my Facebook that I was here at the start. It's the accommodation everyone dreams. Last year I also won, but I didn't expect to repeat this trick this year. It always has to happen in the ring. I've certainly achieved my goal for today."
View the results here
Source: Digishots
Eline Korving of Horses.nl commissioned by Jumping Amsterdam
https://www.jumpingamsterdam.nl/wp-content/uploads/2020/01/Jasmien-de-Koeyer-Esperanza-AMST20L74188.jpg
800
1200
Irene
https://www.jumpingamsterdam.nl/wp-content/uploads/2020/09/JumpingLogo2022-1.png
Irene
2020-01-25 13:02:22
2020-01-25 13:02:25
De Koeyer: "The performance was very good today''