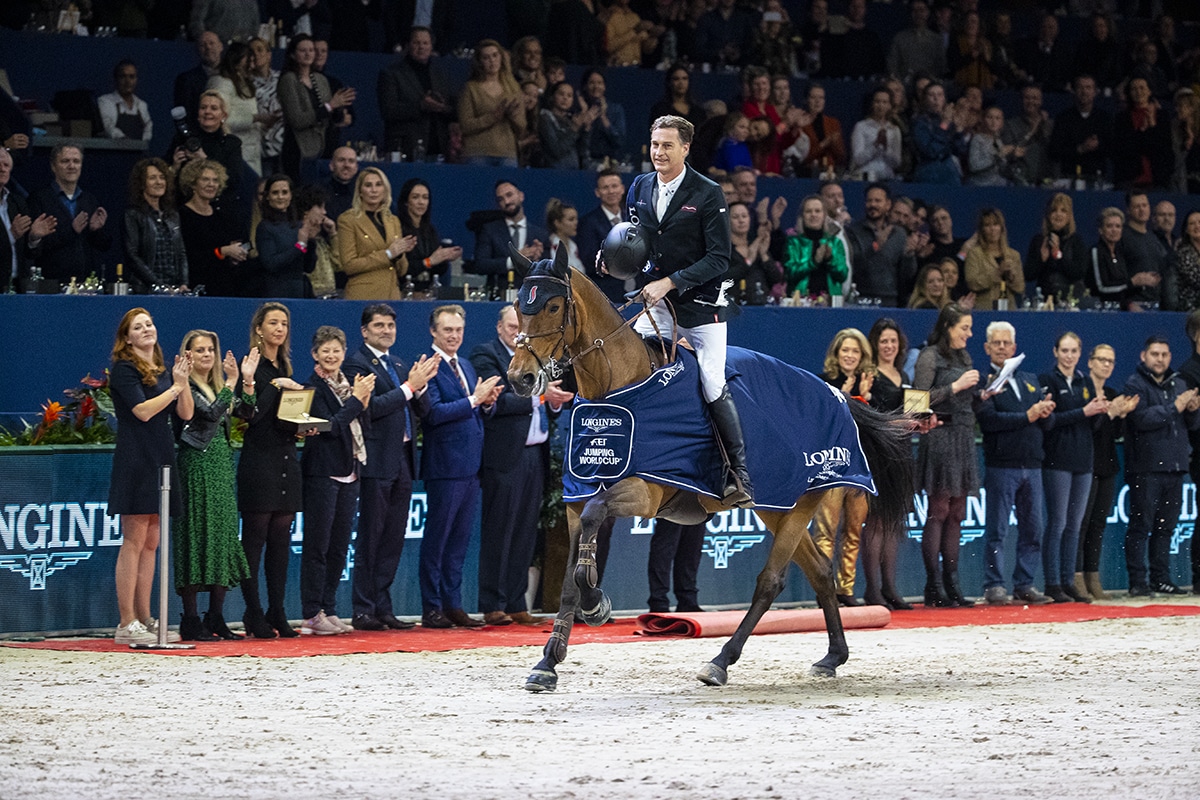 Marc Houtzager gave Jumping Amsterdam a dreamed winner of the FEI World Cup competition. Houtzager trumped with the twelve year old mare Sterrehof's Dante his compatriot Harrie Smolders, who led for a long time. With four riders of TeamNL in the top 7, it was a fantastic conclusion of an atmospheric and sporty Jumping Amsterdam. "Winning here in Amsterdam is really unbelievable", was Houtzager's first reaction.
FOUR RIDERS OF TEAM NL FINISH IN THE TOP 7
"I knew I had to take all the risks. I think I've never driven so fast in a jump-off in my life. Certainly not with Sterrehof's Dante. I knew Harrie Smolders was very fast. Maikel is always fast too and he was still fourth when I had to enter the ring", says Houtzager. "Today was just my day. Until now I didn't even have such a good show here in Amsterdam, so this makes up for it. Winning in Amsterdam is really unbelievable. The mare tried so incredibly hard. I saw the good distance in the turn to the double and in the distance from the first to the second obstacle I made seven canter jumps and the others eight. There I won the competition. The crowd is unbelievable here in the RAI and is really behind us. My sponsors were also here today, so I was extra motivated to win".
With four Dutch riders in the nine combinations jump-off a sold out RAI got a super climax. The unique public could immediately give a standing ovation to Harrie Smolders who as third starter with Monaco took over the lead from the Belgian Pieter Clemens.
Just like last week in Leipzig, Maikel van der Vleuten finished in sixth place with Beauville Z. As a result, the current number 14 on the world ranking list rises to sixth place in the World Cup standings and is therefore certain of the final in Las Vegas. Marc Houtzager can also grab his suitcases, because with the 20 points of victory in Amsterdam he comes in 8th place in the intermediate standings.
Prior to Jumping Amsterdam Jeroen Dubbeldam gave an eye on the Olympics with his new crack Oak Grove's Carlyle. With two convincing clear rounds and seventh place in the World Cup, the Olympic champion of 2000 already lived up to his expectations.
Jumping Amsterdam with its unique audience and fantastic atmosphere has proven to be a super start for the Dutch show jumping sport. For national coach Rob Ehrens a nice prelude to the Olympic year.
Results FEI Longines World Cup Qualifier Amsterdam, presented by RAI Amsterdam, 1.60m.
1. Marc Houtzager (Rouveen), Sterrehof's Dante (by Canturano), 0 – 0, 34.05 sec.
2. Harrie Smolders (Low Horseman), Monaco (by Cassini II), 0 – 0, 35.03 sec.
3. Pieter Clemens (Bel), Quintini (v.Quintender), 0 – 0, 35.18 sec.
6. Maikel van der Vleuten (Someren), Beauville Z (v.Bustique), 0 – 0, 36.46 sec.
7. Jeroen Dubbeldam (Weerselo), Oak Grove's Carlyle (by Casall), 0 – 0, 40.12 sec.
Intermediate stand FEI World Cup West European League, after 12 out of 14 matches
1. Steve Guerdat (Zwi), 80 pnt
2. Marcus Ehning (Ger), 73 pnt
3. Pieter Devos (Bel), 70 pnt
6. Maikel van der Vleuten, 54 pnt
8.. Marc Houtzager, 49 pnt
Click here for the intermediate position
Photo: Marc Houtzager and Sterrehof's Dante (www.digishots.nl)
Source: KNHS
https://www.jumpingamsterdam.nl/wp-content/uploads/2020/01/Marc-Houtzager-AMST20L_L192871.jpg.jpg
800
1200
Irene
https://www.jumpingamsterdam.nl/wp-content/uploads/2020/09/JumpingLogo2022-1.png
Irene
2020-01-26 18:49:06
2020-01-26 18:49:08
MARC HOUTZAGER WINS WORLD CUP COMPETITION JUMPING AMSTERDAM