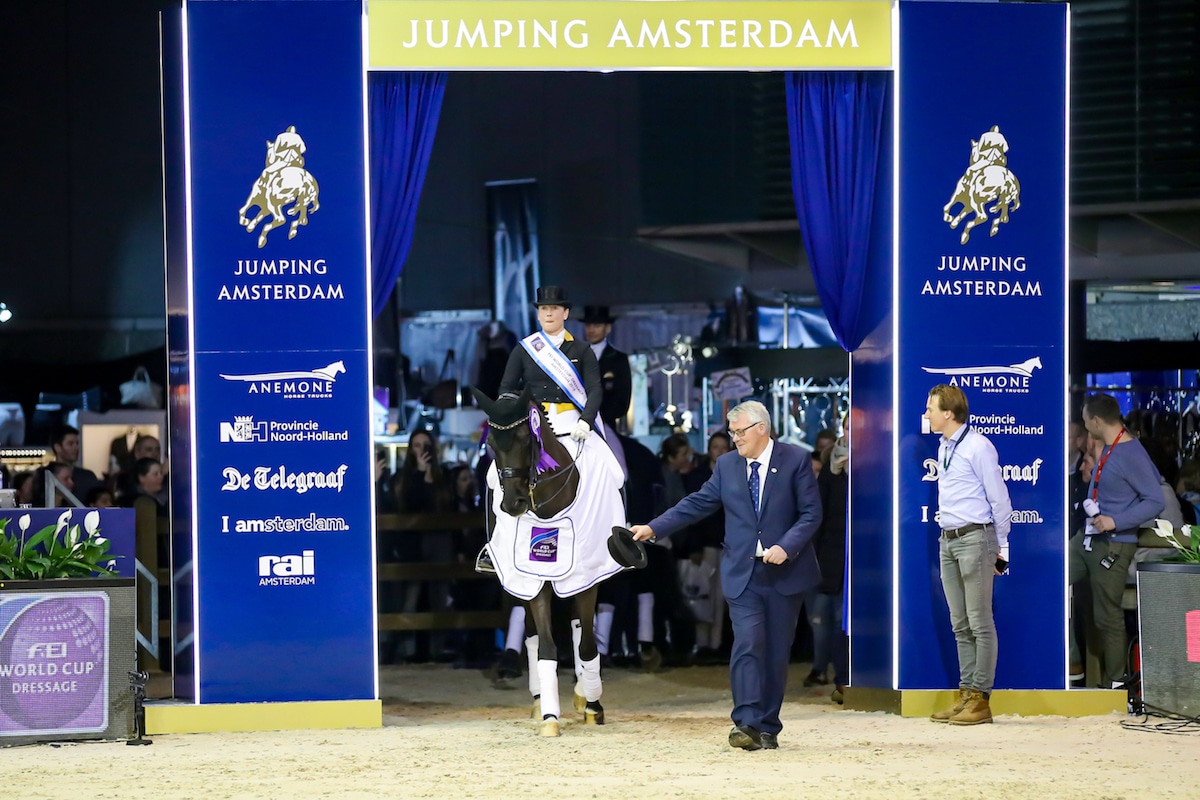 As a token of appreciation for his work, official Nico van Aken was awarded the golden pin from the KNHS last week. Nico is not only working for the KNHS and the KWPN, he has also been a ring master at Jumping Amsterdam for decades.

When asked how often he has worked in the RAI, he couldn't tell. "I never keep up with that, but I will take a look in the stable for the oldest stable plate I have." Horses left the barn long ago, but the stable plates of all sorts of major events are still there. "The oldest Jumping Amsterdam stable plate that I see here is from 1990, but I started somewhere in the late 80s. After a while I was too buisy with my work for some time , but I've been doing it for about ten years now. "

Nico has experienced a lot in Amsterdam. "Many people will not know this, but Jumping Amsterdam used to be in an old hall of the RAI, the round hall. I worked there for at least ten years. There was a clay soil in it. During one of the editions there the riders protested about the quality of the soil. Then the Agterberg company was called in. They then placed a complete new footing in one night. The Grand Prix was held on a new floor that Sunday! "Van Aken also has good memories of the gala evening on Saturday. "Everyone who had to be in the arena had to wear a tuxedo. I thought that was great. I rented a tuxedo the first few times, but then I bought one."
Nico has experienced a lot in Amsterdam. "Many people will not know this, but Jumping Amsterdam used to be in an old hall of the RAI, the round hall. I worked there for at least ten years. There was a clay soil in it. During one of the editions there the riders protested about the quality of the soil. Then the Agterberg company was called in. They then placed a complete new footing in one night. The Grand Prix was held on a new floor that Sunday! "Van Aken also has good memories of the gala evening on Saturday. "Everyone who had to be in the arena had to wear a tuxedo. I thought that was great. I rented a tuxedo the first few times, but then I bought one."
Special atmosphere in Amsterdam
"There is a very pleasant atmosphere in Amsterdam. The recent years of Jumping Amsterdam are really great again. The course is beautifully decorated, and the audience is super. I'm going to miss it. I have seen many riders grow up at events. And now their children are riding around. I can say to some; your mother used to be a coward. Then they look at me with wide eyes." Nico laughts. The reactions of riders touch him. "It's nice to hear how riders react when they hear that I stop. They say that they'll miss me"

"In principle I wanted to stop working completely, now that I have turned 75, but I was persuaded by Pieter Wiersinga to participate at Jumping Amsterdam once more. The 2020 edition will probably be the last event I'll work at. My plan was to stop quietly, but that didn't work out." What are the plans for the coming period? "I still have some competitions scheduled. And as long as I feel good I like to cycle together with my wife. To the provinces of Groningen, Friesland and Zeeland. But no cycling in Amsterdam, too busy for us! "

The next edition of Jumping Amsterdam will take place from 23 to 26 January 2020. Ticket sales will open on 1 October.
https://www.jumpingamsterdam.nl/wp-content/uploads/2019/08/NicovanakenJumpingamsterdam-3.jpg
800
1200
Irene
https://www.jumpingamsterdam.nl/wp-content/uploads/2021/12/JumpLogoWit23.png
Irene
2019-08-13 11:06:31
2019-08-14 09:13:38
Nico van Aken waves off at Jumping Amsterdam